地址:宁波市海曙区顺德路136弄58号
晶葳大厦21楼
电话:+86-574-27852388
传真:+86-574-27852386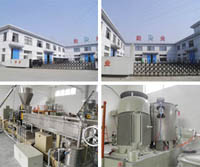 Ningbo Qinye Polymer Technology Co., Ltd. was established in 2007. We are a professional manufacturer of thermoplastic elastomer material. We are focusing on the front-end application of the TPE/TRE via vigorous research and development of the most advanced technology in the field.
The company now has manufacturing plant convincing over 10,000 square meters, and we have registered capital of more than 500 million Yuan. Our automated production line can process more than metric 5000 tons of the material annually, which are widely used in many areas such a medical equipment, consumer electronics, construction material as well as automotive parts.
Qinye committed to give our customers the best cost-effective choice in the market of high-end TPE / TPR products. Our efforts to continuously investing in research and development, has enabled us to make multiple series products meet or exceed the performance of the imported materials. We are recognized by large customer groups. The company has passed ISO9001 certification, and many more series of products have been certified by ROHS, FDA and TUV.
Innovation is the driving force behind Qinye's development. Aiming for customers demand for a higher standard TPE / TPR material, with our rigorous research and development and out deepen knowledge on polymer science, we strive to provide to all of our customers with a high quality, environmental friendly and innovative TPE / TPR product. With a full range of technical support services and our comprehensive and unique understanding of polymer material, Qinye, is committed to deliver more perfect product!
Qinye's purpose: give our customers choices, pay for the quality of the imported materials with only domestic price!
Qinye's expectations: make our best efforts to provide our customers with most advanced international technology!
Qinye's commitment: with our consistent and unbeatable quality, we strive for our customer satisfaction!